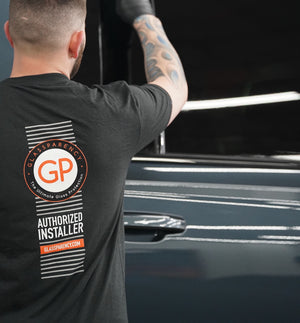 Become an Authorized Installer of GP
The Leader in Glass Protection
What's a Glass Treatment?
Unlike many wax-based or topical coatings, GlassParency is a glass treatment that's chemically engineered to react to the silica within glass creating a lasting, ultra-hydrophobic bond with any silica-based surface.
Its benefits go beyond just being a water repellent - it makes glass easier to clean, more resilient against chips and cracks, optically cleaner, and is effective in any climate or environment.
Our network of professionals offer GlassParency as a service to car lovers, homeowners, boaters, commercial vehicle fleet managers, solar panel technicians, airplane pilots, and more.
Why GlassParency?
GUARANTEED 3 Year Warranty
For windshield treatments, GlassParency includes a 3-year warranty that covers free maintenance for both the consumer and the installer, ensuring our product stays at peak performance for the life of the warranty.
DEDICATED Account managers
All of our installers can enjoy dedicated support from one of our account managers. Whether it's product application advice, reorder help, or ideas on how to market GlassParency in your shop, your account manager is here to help.
Wholesale Pricing Access
As a member of our Authorized Installer network, you also receive access to our full line of detailing products at wholesale prices: ceramic coatings, soaps, cleaners, and more.
How it Works
Step 1: Get GlassParency
A brief phone call with one of our friendly account managers is all it takes to get started. Get your Starter Kit with the option to add the Marketing Bundle and you're on your way.
Step 2: Get Trained
Watch the Authorized Installer training videos to learn how to properly prep the glass, how to apply a glass treatment, and how to submit customer warranties.
Step 3: Get Started
Start installing! At this point, you'll have everything you need to begin offering GlassParency to your customers.
Apply Now
STARTER KIT INCLUDES...
Products:
(3) Glass Treatment 5-Packs (15 treatments total)
(1) 16oz Bottle of Glass Cleaner 
(1) 8oz Glass & Chrome Polish
(1) 16oz Bottle of Maintenance Solution
(1) 4-Pack Applicator Pads
(1) 360 GSM Microfiber Towel
3-Year Product Warranty on each customer application
Marketing & Sales Materials:
(1) Brochure 25-Pack
(1) Hangtag 25-Pack
(1) Brochure Holder
(1) Shaker Jar Demo
(1) Authorized Installer Certificate
Retention Program: (4) Branded Emails/Texts per Year sent to your GP customers*
Become an Installer
ADD THE MARKETING BUNDLE...
Everything from the Starter Kit PLUS:
(2) 18"x 24" Framed GlassParency Posters
(1) 3'x5' Authorized Installer Banner
(1) Glass Treatment Placemat
(1) GP Authorized Installer Window Decal
(1) Framed Authorized Installer Certificate
Become an Installer
Don't Just Take Our Word For It
Hear what Justin Labato, former President of the International Detailing Association, and some of our top Authorized Installers have to say about GlassParency and how they use it to take their business to the next level.